Autumn With Topsail Festival
October 20th, 21st & 22nd, 2023
Welcome to the Autumn with Topsail Festival
Started in 1988, The Autumn With Topsail Festival is held on the grounds of the Historical Society of Topsail Island and the Assembly Building which houses the Missiles & More Museum in Topsail Beach, NC. The festival features an Artists' and Crafts Court with over 100 regional artists displaying and selling their work. Enjoy exciting live musical entertainment, a variety of amazing food with beer and wine, inflatables and crafts for children, and much more!
FREE Shuttle Service will be provided from various parking areas in Topsail Beach to the Festival Grounds. Please remember NO PETS are permitted unless they are licensed service dogs.
Please remember NO PETS are permitted on the festival grounds. Service animals specially trained to assist a person with a disability are welcome. Emotional support animals, comfort animals, and therapy dogs are not service animals under Title III of the ADA and are not permitted on the festival grounds.
For additional information on service and emotional support animals go to https://adata.org/service-animal-resource-hub.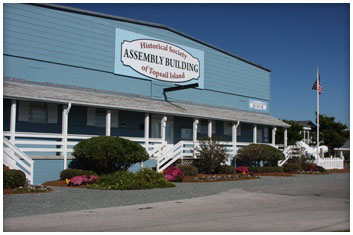 2023 Live Entertainment Lineup
Round up your friends and come out on Friday night to hear The Notorious Clam Slammers and get the festival started.  Admission is $5.  The beer and wine tent will be open along with several food trucks.   There will be no craft vendors open on Friday night.
Gate Times
Friday 5:00 pm – 7:30 pm
Saturday 8:30 am – 7:00 pm
Sunday 8:30 am – 3:30 pm
Gate Locations
* Main Gate located on S. Anderson Blvd
* Behind Four Cousins Ice Cream located on Carolina Blvd
* Lewis Seafood located on Carolina Blvd
* Band Stage located on Channel Blvd (THIS GATE WILL NOT BE OPEN FRIDAY NIGHT)
The 2023 Autumn with Topsail Festival Committee is pleased to announce our entertainment lineup for this year.
The festival kicks off on Friday evening, 20 October 2023, with The Notorious Clam Slammers taking the stage at 6PM. The Clam Slammers are sponsored this year by "The Locals" of Topsail Beach. Gates open at 5:00PM along with the beer and wine tent and the food trucks. Admission is $5 (no advance online ticket sales). There will be no craft vendors open on Friday night.
On Saturday afternoon, 21 October 2023, the music gets started with The Carolina Band taking the stage starting at 12 noon. A tribute to our Country with the singing of our National Anthem and a Color Guard provided by the Pender High School JROTC will start the festivities.
Saturday evening things heat up with the North Tower Band beginning at 5PM.  North Tower has been one of the south's great party bands for over 40 years, providing the best in Top 40, beach, funk, and oldies. Sizzling brass, super vocals, and a wide-ranging repertoire all contribute to making this a night you don't want to miss.
Sponsored by Matt Jones of Streamline Realty Team.
On Sunday afternoon, 22 October 2023, The Band of Oz will crank up the music at 1:00PM.  The Band of Oz is sponsored this year by Matt Jones and the Streamline Realty Team. The Band of Oz is one of the most successful groups in the Southeast and continues to get the very best reviews from the top people in the entertainment business. The band features a full horn section to total a dynamic eight-member group.
Sponsored by Better Homes and Gardens Real Estate – Treasure.